This Holiday Season get the Best Responsive WordPress Theme for your website at an Amazing Price. During the 2020 Black Friday and Cyber Monday Sale witness crazy discounts on genuine products that would make your Website perform well and generate maximum business revenue.
If you are in search of a good WordPress Theme for your business/personal use then you are at the right place. In this article, we have discussed why you must rather prefer buying the Oshine Multipurpose WordPress Theme for your Website than a Free WordPress Theme.
Why Purchase Oshine WordPress Theme?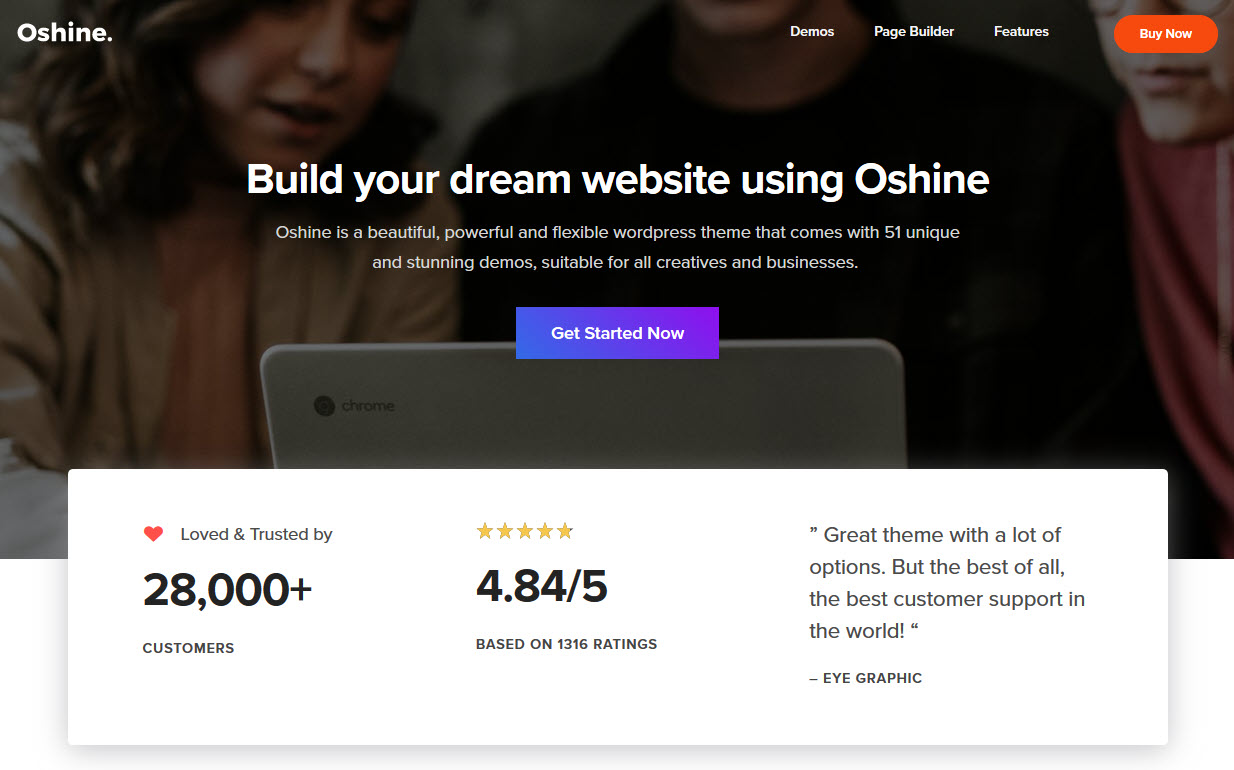 You can find numerous Free WordPress themes that look attractive and are loaded with super cool animations to lure visitors. Well, these themes might look astonishing at first they are often deceptive. It can be holding dangerous malware from within that can put your long hard work at risk.
You don't want to lose your crucial data and the respect you've earned from your clients/customers with years of hard work for no mistake of yours. Well you did make a mistake and that mistake was choosing the wrong Website Theme which later on perished all your work.
Also Read: ExpressTech's Black Friday and Cyber Monday Deals!
To avoid these helpless situations you must be extra cautious while installing any plugin/theme on your WordPress. Many a time you are handed a nulled plugin/theme which looks and works perfectly fine but causes damage to your site from within.
These plugins/themes are often stolen from the actual developer and modified with custom code to work differently and secretly collect crucial data. This creates a major security risk allowing the attacker seamless access to your information without you knowing.
Oshine WordPress Theme on the other hand can be trusted as it is by its 29000+ Active Users with their website. Oshine follows a clean coding process where the Theme is built from scratch without any third-party intervention to its code.
Also, Oshine is made officially available to download only from a single legit source that is from ThemeForest. Other than that Oshine is regularly updated with security patches and performance improvements that you won't find on free WordPress Themes.
Best Features of Oshine WordPress Themes
Oshine Theme is Best for Professionals and Businesses, it has 50+ High-Quality Pre-Build Demos for every niche. Mainly Architecture, Photography, Portfolio, Agency, Business, Freelancer, Shop, etc.
Oshine Provides the Best Quality Themes, Powerful Design Options, Superior Performance and is rated as one of the Best Creative WordPress Theme by the industry's prominent critics and its customers.
Oshine comes with a very powerful Tatsu page Builder that has drag and drop functionality just like Elementor. Using its 50+ Styling Modules you can create awesome looking design.
Oshine also supports Woo Commerce meaning you can build amazing shopping websites and showcase your products in the best possible way thus providing a smoother shopping experience to your customers.
Also Read: Best Project Management Tools for Freelancers and Agencies
Some Important Features of Oshine Theme:
24×7 Professional Customer Support
52 Pre-Built Demos Ready to Use
One-Click Demo Import
Build Best Single Page Websites
Unlimited Design Possibilities with Tatsu Page Builder
Colorub and TypeHub support for Enhanced Coloring and Typography
GDPR Compliant Design
Multilingual Website Ready
Ample of Documentation for Quick Reference
Unlimited Styling Options
Addition of Custom CSS and Javascript, and much more.
Other than that Oshine has been tested for compatibility with most of the popular WordPress plugins and with the popular web browsers. And has turned out working well with no issues.
Conclusion
If you want your theme to be of the Highest Quality and Responsive Design then you must definitely opt-in for Oshine Theme. It is the best Professional WordPress Theme providing tons of customization options.
This Thanksgiving Oshine Theme will be available to purchase at a much reduced price. During Black Friday and Cyber Monday lookout for Oshine WordPress Theme and get up to a 30% Discount.
Also Read: Best Questionnaire Plugin for WordPress Websites
You don't need any discount coupon as the price will be automatically reduced
If you are interested in other WordPress products than you must check out the Crazy Black Friday Steal Deals List of 2020